Reviews
Articles
Click on any of the press clippings below to zoom in and read full-sized versions:
Guitar World
SEPTEMBER 1990 PAGE 124
Guitar for the
Practicing Musician
OCTOBER 1992 PAGE 11
Guitar for the
Practicing Musician
MAY 1992 PAGE 168
Guitar for the
Practicing Musician
OCTOBER 1993 PAGE 84
Guitar for the
Practicing Musician
OCTOBER 1993 PAGE 150
Pensacola,
FL Newspaper
2013
Testimonials
Some monster players that have bought my DVDs are Alex Hutchings, Tosin Abasi, Xander Demos, Runne Berre, Richard Medel, Jack Vincent, Akihiko Onji, Pat Carmody, Jack Zucker, and Dweezil Zappa. These guys were already incredible before they bought my DVDs, so I was quite amazed and honored that they did. Thanks, guys!
Here's what some of the world's top guitarists had to say about my playing, some of whom are legendary and quite possibly the best to ever live. I suggest you Google these players and listen to their amazing abilities.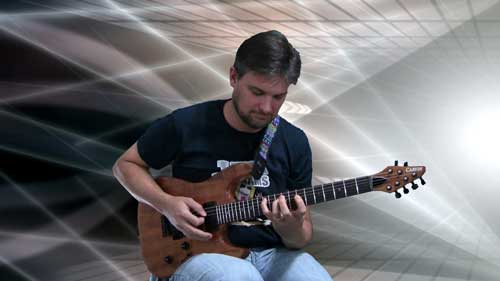 See what people have to say after working with me:
Hi Derryl, I just wanted to reach out and tell you that I just discovered your playing literally moments ago on youtube. I'm an instant fan. It's so crazy that we live in an age where you can see something that inspires you and reach out and contact the person almost instantaneously. Anyway, many of the concepts that you are teaching in lessons on playing outside are precisely the kinds of things that I have been gravitating towards lately in my own playing, but I don't have a jazz background and have found it hard to really incorporate these concepts naturally. I am quite inspired to check out your DVDs. Out of curiosity are you local to LA? If so I was wondering if you might be willing to get together and play a little for fun. If so feel free to contact me at this e-mail. It is legitimate. It is me. My website is dweezilzappaworld.com - that is also another way to reach me if you like. I hope to hear from you. Great playing!"
Dweezil Zappa
It's like looking in the mirror.
Allan Holdsworth
Incredible playing! Derryl is a true master of the guitar with exceptional abilities. (folks, this guy is on par with the greats; check him out at https://www.youtube.com/@ChananHanspal/featured or chananhanspal.bandcamp.com)
Chanan Hanspal 
Hello Derryl, Great tune! Your technique is very solid and the tone is just beautiful! Nice sweeping : ) Amazing performance, very nice changes and interesting phrasing! You have very cool influences! Greg Howe meets Allan Holdsworth.
Frank Gambale
I purchased your legato DVD a few weeks ago and love it!
Tosin Abasi
You sound great, and your videos are really cool. Really cool ideas on those videos that I watched from your link. Anyway, thanks again for the email! (one of the best jazz and fusion guitarists of his generation. check him out at timmillermusic.com)
Tim Miller
Who is this guy?…he is very talented!
Besides having amazing chops he has a good sense of melody and phrasing.
Shawn Lane
Thanks for the kind words sir, quite the great player you are!!!All the Best - Bruce
Bruce Bouillet (RacerX)
Bro - excellent. Killa swings, killa chops, never at the sacrifice of melody, and stepping outside with taste and grace.
Ron Thal aka Bumblefoot
…mind boggling!
Brett Garsed
Your the best unsigned guitarist I ever heard! …those are sick licks! How do you do that?
Greg Howe
Hey, Derryl, as I type this email out, my hands are shaking, haha. Thank you for taking the time to write to me and for your amazing feedback. Your an absolute virtuoso, and I wish you all the best for what the future holds for you (I'm sure it's already massive for you)we all dream to play like you, and judging by this email, you're a gentle man as well. ( I had to laugh when I read this email from Mike because I wish I could play as good as him! Check him out http://michaeldolcemusic.com/ ) Thanks again mate
Michael Dolce
After hearing that I'm going to have to go practice.
Joey Tafolla
Your an incredible guitarist!" "The point is that after I listened to 250 tapes, there were very few with an original style. I thought Derryl had an original style. He had all the techno-weenie chops happening but I thought he was in a space of his own. So I brought him down to play on Tierra Del Fuego.
George Lynch
Just wanted to congratulate you your contribution to guitar. Great Work, love it.
Les Wise (REH, Musicians Institute)
Hi, Derryl! You must be the greatest gift to the guitar-playing community! I just hope that more people understand what your instructional releases can do for their development as players. Thank you for your willingness to share from you wealth of guitar-knowledge. You truly are a gem! Thank you! Happy holidays, Derryl! Take good care of you family!
Rune Berre
Hey Derryl, Thanks for your kind words! They mean a lot to me.
I'm honored you enjoyed listening to my stuff. You're a great player!
Gustavo Assis-Brasil
Derryl is a gunslinger of the first order. A keen sense of when to burn and when to breathe puts him on the next level, that of a musician of the first order.
John Stix (Editor and chief of Guitar for the Practicing Musician 92)
Hey guys: I've received many CDs and tapes from aspiring guitarists since I started the Shawn Lane website. None have impressed me more than Derryl Gabel's "Visions And Dreams." Derryl first contacted me 2 years ago and sent a short demo tape. His speed was VERY impressive but what really hooked me was his phrasing and melodic compositions. I encouraged Derryl to release a CD and he was reluctant at first. Early this year I let Shawn hear Derryl's work and he had some positive comments. When I told Derryl about this it finally convinced him to work on a CD. "Visions And Dreams" is the final work and I'm sure you'll be impressed.
Mick Trammel (Shawn's Web Master)
Derryl is the best! I think Derryl is one of the finest electric guitarists around today - his technical and melodic expression is not of this world! Buy his DVD's and support this GREAT independent artist ,awesome!
Nick Kellie
I get more out of 5 minutes with you, than HOURS with some of these other folks. I'm going to have to check your website and see if I can afford to take it to the next level with you! This is just amazing!
312chicagoadam youtube.com (posted on the Tetratonic video)
Hi Derryl, I just wanted to let you know that I have received the DVD's and that they are fantastic! Excellent work on compiling all of your DVDs in to one handy collection. I also wanted to say thanks for the inspiration and the help you've given me in my musical journey. Cheers mate!
Andy Rofe from Australia
Derryl! Hey man, hope you're well! I did get a chance to dig in - totally loving them. Incredible inspiration I have to tell you.
Xander Demos
Derryl, thank you so much for your effort. i spent so much life time and money to get some musically help and i was never really happy. What you did for the bucks I had to pay is just amazing. You are playing on the level of Frank Gambale and Co. but you are even better. You share with the one that don't have your talents and skills but we share the same dream. I bow my head maestro ? God bless
Georges Walser Switzerland
Thanx Derryl for putting out such great material. Been working on some of the stuff we bought from you and it's very informative and well thought out. Makes learning easy and fun plus knowing your accomplishing something that will have meaning. Great stuff brother and may Jehovah Bless You and Yours!!!
Shredfester ( youtube )
Before I discovered Derryl Gabel, I was stuck in the same pentatonic boxes and major/minor scales we all learn when we start out. I'd graduated from a famous music school and I'd got my degree in applied performance, but my practicing was repetitive, and I didn't feel like I was getting anywhere. A friend of mine turned me on to Derryl, and after hearing his "Visions and Dreams" CD, I figured I'd take a shot and see if I could pick up a tip or two. I bought "Cool Legato Phrases," and what I learned was a whole new way of playing and thinking about music. I can say without hesitation that out of the hundreds of guitar instructional materials I've purchased over the years, CLP is right up at the top of the stack. It's the best guitar fusion instruction available today, period. Derryl is much more than just an amazingly gifted musician, he's also a talented teacher, who generously shares his musicality and his awesome technique in an easy to understand series of musical examples that allow every guitarist, regardless of level, to develop the chops they need to express themselves in the modern musical world. Thanks, Derryl, for opening my ears!
Marc Blumenreich, guitar instructor at Crescenta Valley Music Studio, La Crescenta, CA.-
I have seen and used almost every guitar instructional that has come out over the last ten years and I can say, without question, that your Technique Book and series of instructional DVDs are the best that I've come across. From learning advanced techniques to working on fundamentals of rhythm and theory, your instructionals have been and will continue to be an invaluable resource to me. The technical advances that I've made in the last few years, I owe in large part to your Technique Book and DVDs, and strongly recommend them to every guitar player I know. Incredible stuff and can't wait for the next one.
Marc Blumenreich, guitar instructor at Crescenta Valley Music Studio, La Crescenta, CA